Heated Driveways and Snow Melting System Options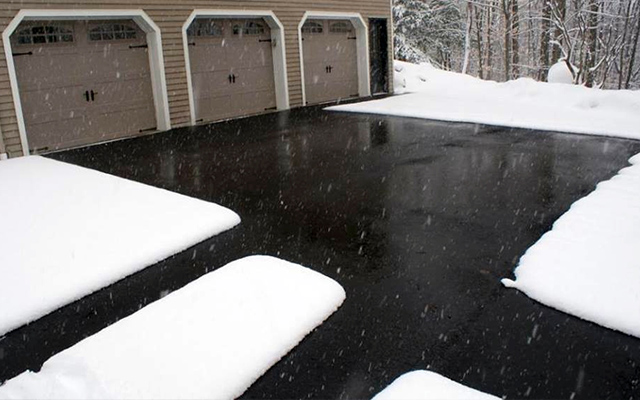 The ClearZone snow melting system offers the flexibility of heating almost any size and shape of driveway, walkway, ramp, or parking area, etc. Versatile and extremely durable, the ClearZone radiant heating cable is capable of being used in a wide range of snow and ice melt applications. Call 888.488.9276 today to learn more about the various radiant heating options available to you for your home or commercial property. Our radiant heating experts can design a radiant snow and ice melting system that is tailored to meet the specific demands and budget of your project.
Whether you want to keep your driveway, walkways, patio, or other areas free from snow and ice, or simply want a minimal radiant heating system that allows you to be able to safely get in and out of your driveway during heavy winter storms, Warmzone can customize a radiant heat solution to best meet your specific snow melting needs and budget. Some examples of radiant heat system options are outlined below:
Heat tire tracks: Heat two 24-inch wide tire tracks in your driveway. Heating just two tire tracks is an affordable way of providing a safe, snow-free path for your vehicle. This affordable snow melting option offers lower installation costs, and because the heated tire tracks require less power than heating the entire surface area, the option also offers lower operational cost.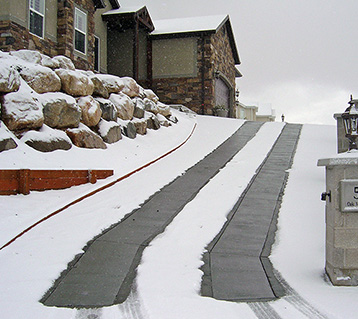 Heat large custom areas: Only heat where you need it the most. For example, rather than installing a snow melting system under your entire driveway, install radiant heat only where you need it the most (such as an 8-foot strip in the center of the driveway), or in particularly troublesome / steep portions of the driveway. For heated sidewalks and walkways, install radiant heat in a 3-foot wide strip in the center of the walkway, or only heat crucial areas, such as loading docks, ramps, steps, etc.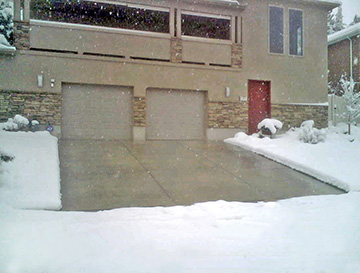 Heat small, select areas: Rather than applying radiant heat to an the entire driveway surface, install the snowmelt system in a pair of 2-foot wide tire tracks on your driveway (as shown in the photo). Small, custom sized radiant heating can be installed in disability ramps, stairways, small patios and walkways, dog kennels, etc. The applications of electric radiant heat are virtually unlimited.
Getting Started
Our goal is to provide you with a timely, accurate estimate as well as offer a variety of options that are specific to your snow melting project which will help you achieve maximum snowmelt results while remaining within your budget. We take pride in our reputation as the industry leader in customer service and premier radiant heating products. Our experts strive to determine the most effective snowmelt system for your needs while serving as your unbiased, comprehensive information resource for radiant heat snow and ice melting systems. We understand that providing you with accurate information assists you in making the best decision possible for your radiant heat needs, and ultimately increases the satisfaction of our customers.
Receive a Free Estimate
To receive a free estimate, visit our Quote Request page and fill out the form. In order to provide you with an accurate estimate for your radiant snow melting project, we'll need to know the dimensions of the area you wish to heat. In addition to providing you with a general price estimate, we will also offer several custom options for your project and expert recommendations. For a more comprehensive radiant heating project proposal, email or fax us a detailed plan or drawing of the area to be heated, and we will immediately evaluate the various aspects of your project to provide you with a timely, informative and accurate quote.
Radiant heated driveway systems incorporate a reliable, high-tech snow sensor that automatically activates the snow melting system when needed and turns off the heating system when the driveway is dry. Enjoy a clear, safe driveway this winter by installing a radiant heat snow and ice melting system (and save your back from the grueling task of manually removing the snow).
In addition to offering industry leading products and complete system design services, Warmzone also provides expert installation support. We pride ourselves on giving our customers the best customer service and experience possible.
Learn more about the many custom options for heating your driveway by talking with a radiant snow melting system expert. Call 888.488.9276 today.