Heated Driveways and Snow Melting Systems
ClearZone Snow Melting Systems
Radiant Heated Driveways, Sidewalks, Ramps and more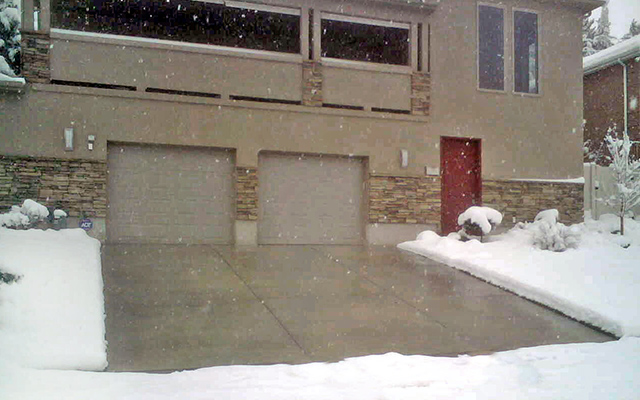 Heated driveway systems can be installed to heat a variety of custom areas and mediums, but the most common snow melting installations are in concrete, asphalt, and brick or stone pavers. These systems are very energy efficient and easy to customize. The heating element can be installed to heat walkways, steps, ramps, driveways and more. The ClearZone snow melting system is a proven radiant heat solution that is fully automated and maintenance free. But in addition to electric heated driveways and snow melting systems, hydronic driveway heating systems are also available.
Both electric and hydronic technologies use a network of heating elements that are embedded under the surface of the driveway. ClearZone systems use a proven twin-conductor, resistance heat cable, while hydronic systems utilize flexible polymer Pex tubing. A specially treated mixture of water and propylene glycol (anti-freeze) is heated by a centrally located boiler, and then a series of pumps circulates the liquid through the closed loop of embedded tubing to warm the driveway.
Automated snow melting systems typically utilize an aerial-mounted snow sensor switch. (In-ground sensors are also available, but these are typically used in larger commercial applications.) The sophisticated, yet durable snow sensor automatically activates the ClearZone system when precipitation is detected and the temperature is below a set point. The sensor has several notable features, including: adjustable temperature trigger point (usually set at 39°F), adjustable delay off cycle, upgradeable remote activation, and is smart-system compatible. With the aerial or in-ground activation device, the ClearZone radiant heating systems are fully automated and will activate only when the weather dictates. The snow melting systems also feature manual override capability so that the driveway can be heated to melt snow drifts or deal with some other cases, such ice forming in a shaded area.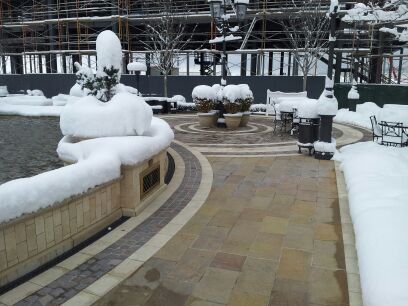 Snow melting systems – especially electric systems such as ClearZone – are very easy to customize and install. The heat cable can be laid out to accommodate the specific layout needed by the home or business owner. A variety of options are available to accommodate various budgets. Instead of heating an entire driveway, homeowners can opt to heat an 8-foot wide strip up the middle of the driveway, or perhaps just heat two 24-inch wide tire tracks. Or only heat the driveway's incline or trouble areas. The options are limited only by one's imagination.
For those looking to install a heated driveway or snow melting system, be sure to only work with professionals who include a complete system design and layout, and technical support along with the system components. Warmzone not only includes detailed layouts that provide all the technical information necessary, but also include installation support from radiant heat experts. Additionally, Warmzone also offers free installation training for installers. Warmzone understands that a heated driveway is only as good as its installation. While you'll be receiving industry leading products from Warmzone, you'll also receive the industry's best customer services. Call a Warmzone representative today.
Learn more about heating your driveway with a ClearZone radiant snow melting system by calling 888.488.9276 today.