Radiant Heat for the Car Wash Industry
A Great Business Decision for Car Wash Owners - Reduce Liability, Lower Insurance Premiums, amd Increase Business
Radiant floor heating systems have gained acceptance in homes as an alternative to forced air systems. Using heat cable to transfer heat from the floor up, radiant heat conveniently warms the surface - and the home. Now, the same concept for interior radiant heating is being applied at higher temperatures to exterior applications as a way to remove snow and ice from driveways, commercial properties, and car wash bays.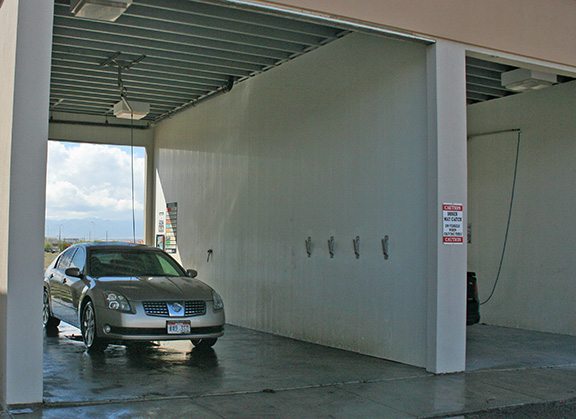 Homeowners and business owners, and now car wash owners across the country, are installing electric radiant heat cables (or PEX tubing that circulates a mixture of heated water and glycol) to warm concrete to the point of melting hazardous snow and ice. Jeff Winegar, a national account manager for Warmzone (www.warmzone.com) stated, "I often receive calls from business owners looking for reliable, maintenance-free methods to remove snow and ice in an attempt to avoid expensive liability suits against their businesses."
The car wash industry has become a prime target for injury lawsuits, resulting from frequent accidents due to ice accumulating on the pavement in and around the carwash bays. Car washes in cold regions across the country are forced to take steps to protect themselves by preventing ice and snow from accumulating on the ground and other surfaces during times when the temperatures are at or near freezing. One car wash visitor was awarded $634,000 after slipping and falling on black ice at a car wash in Charleston West Virginia.
Even though a snow melting system using radiant heat is not always an absolute guarantee against lawsuits, radiant snowmelt systems can play a vital role in protecting customers - and carwash owners - from accidents, and the ramifications of these types of accidents. Typically used for residential heated driveway systems, radiant heating is an extremely useful means of raising the ground temperatures in and around car wash bays enough to eliminate dangerous snow and ice buildup. Salts and other non-environmentally friendly chemicals require constant manual application and usually have a limited temperature range in which they are effective. If someone forgets to spread salt or shovel snow at a car wash - or any other business venue - the risk of serious (and expensive) consequences increases dramatically, making the business owner much more susceptible to expensive lawsuits.
Warmzone has helped car wash owners and many other businesses throughout Northern America find sensible, cost-effective radiant heat solutions for a variety of snow removal needs. For more information about radiant heated driveways and other snow and ice melting solutions, contact Warmzone at 888-488-9276.
Back to ARTICLES HOME