How Heated Driveways Work
ClearZone Radiant Heating Systems Include: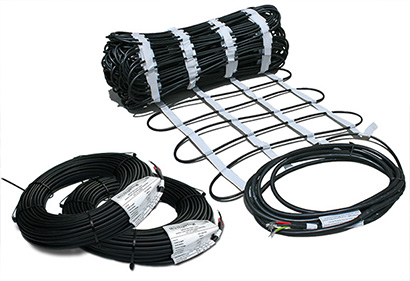 Radiant Heating Cable
The ClearZone snow melting system uses a high quality, durable heating cable that can deal with nature's worst conditions. The ClearZone cable is UL listed and consists of a twin conductor with FEP/XLPE insulation, and polyolefin jacketing, which provides flexibility and protection. The radiant heating cable is rated at 220°F and has a minimum 10-year manufacturer warranty. The CZ cable is designed to produce 30-50 watts per square foot and provides a quick response time. A special ClearZone heating cable for hot asphalt applications is also available. The snow melting cable's construction allows it to withstand the heat and compression of newly poured asphalt, and is one of the most reliable radiant heating snowmelt cables on the market. ClearZone heat cable can be installed under virtually any type of surface, including: concrete, asphalt, under pavers, etc.
Snow Melting System Control Units
The control units of the radiant heating systems are NEMA 1 controllers and NEMA 4, wall-mounted control panels. The size of the control panel is based on the size and type of heating application. For systems using the aerial-mount sensor, the contactor panel used is typically 14x12x6-inches. If an in-pavement sensor is being used, the system relies on a small ETO controller that features an enclosure that is about 6.5 x 10 x 3.5-inches. The controls include line and load terminal blocks and operating contactors. The automated systems also feature manual override capabilities for times when wind may have blown snow onto the surface or ice developed in shaded areas.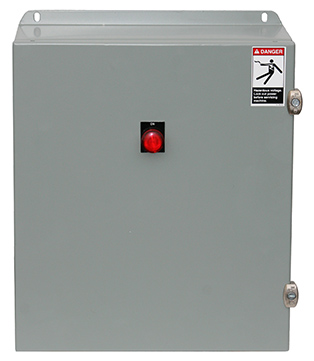 Warmzone's master controller for heated driveway systems using an in-ground sensor is compact, easy to use and fully programmable. The design of the control box is extremely robust for any weather situation, and the unit has a built-in programmable timer and digital operator interface. The user interface does not contain external mechanical parts, making it very rugged and easy to use. The small control unit is UL listed for use in residential areas, which means the control system has passed the rigorous demands required to achieve the industry's highest standards of safety.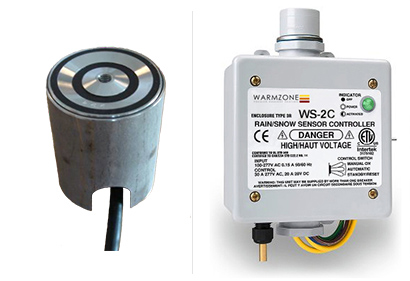 Snow Sensor Activation Device
ClearZone radiant heat systems come standard with an aerial-mount snow sensor switch. This highly sophisticated, yet durable device automatically activates the ClearZone system when needed, and has several notable features, including: adjustable temperature trigger point, adjustable delay / off cycle, upgradeable remote activation, and is smart-system compatible. The pavement-mount snow sensor is available for all systems, and is typically preferred for large commercial applications. With these devices, the ClearZone radiant heating systems are 100 percent automated and will turn on whenever the weather conditions warrant. The 4-hour timer on the control unit acts as a manual backup in case the wind blows snow on the driveway or ice forms due to wind or shade.